17
Oct
Tokyo - Kakemonos inspired by japanese way of life
Tokyo - Kakemonos inspired by japanese way of life
I created the following diptych after three short trips in Japan (2013,2015 and 2017), fascinated by the original way of life of japanese people, mixing tradition and modernity, and the special funny atmosphere in Tokyo. Japanese heritage and traditions are very well preserved and it is a real pleasure for occidental people (like me) to discover it. In the same time I was also amazed to discover the "kawaii" side of Japan !
Kimono
The first part of my artwork is inspired by a drawing that I have seen in Tokyo Edo Museum, it represents a woman from behind dressed in a kimono. This drawing from a novel about the Tale of Genji has been published between 1830 and 1841. The draping effect of the kimono and the beautiful patterns on clothes is very graphic and beautiful.
More about Edo Tokyo Museum !
Godzilla
The second part is an urban landscape located in Shinjuku, Tokyo. You can see a giant statue of the dangerous japanese monster (and icon) Godzilla appearing over skyscrapers !
In the various stories it has appeared in, Godzilla has been featured alongside many supporting characters. It has faced human opponents such as the JSDF, and other giant monsters, from recurring ...
More about Godzilla !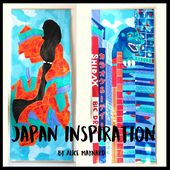 Tokyo - Kakemonos d'inspiration japonaise - Alice Maynard
Tokyo - Kakemonos d'inspiration japonaise Tokyo, Kakemonos d'inspiration japonaise, par Alice Maynard Ce diptyque d'inspiration japonaise a été créé après plusieurs courts voyages au Japon (20...
http://www.alice-maynard.com/2017/10/tokyo-kakemonos-d-inspiration-japonaise.html
Article available in French ! Version française !